Creating a Good Lease
This is a legal document that protects you. Make sure it's comprehensive.
If you are using a property manager or even a Realtor to lease your property, they should have access to good, well written leases. You can also get a good lease from various landlord associations that specialize in your property type. You should avoid buying a very basic, generic lease, especially if it doesn't include all the specifics that your State may require.
Here are some important points to include in your California lease:
Lead Based Paint
If your property was built before 1978 you also have to make sure you inform your tenants of that fact and that there may be lead paint on the property. You must also provide all your tenants with the government booklet "Protecting Your Family From Lead" along with the signed lease. If you fail to disclose this information and do not provide the brochure, the tenant can cancel the lease at any time without penalty since you failed to disclose the possibility of lead paint on the property.
Late Fees
Some owners want to charge a 10% or higher late fee and have more fees for every additional day the rent is late. The courts have ruled that this unreasonable and you will not be able to collect these fees if your tenant challenges you in court. The courts will generally allow a late fee between 5%-6% of the collected rent with no daily late fee.
Grace Period
Most landlords will put a 3-5 day grace period into their leases. While this is fine if you like getting paid 3-5 days after the rent is due, it is usually unnecessary if you have a good tenant. If you set expectations up front that the rent is due on the 1st of every month and late on the 2nd and then enforce the late fee when this schedule is missed, you will generally get your rent on the 1st. Some owners will make an exception if a tenant gets paid on the 2nd or 3rd of every month and then consistently pays their rent the next day. A word of caution on making this exception is do not let the rent get paid later than the modified due date without paying a late fee. If a tenant is tight on funds every month and is in the mode of paying the squeaky wheels first and you are an easy going landlord, you put yourself into the easy going, get paid late column of this tenant's accounting system. You want to make sure your tenants understand that you are a good, responsive landlord and in exchange for that, you expect the rent to be paid in full, on time, every month, period.
Rent Cap and Just Cause Addendum
California passed a statewide rent cap and just-cause law that went into effect on January 1, 2020. Most single family homes and condos are exempt, provided the lease has very specific wording from the law that says it's exempt. Don't forget this or you could find yourself dealing with an unnecessarily government regulated investment! Security Deposit to not be used for last month's rent.
No Smoking on the property.
Where they can and cannot park.
Any maintenance expectations.
Restrictions on pets.
Neighborhood conditions are unknown.
Current property condition.
All HOA Rules & Regulations.
No subletting.
Megan's Law Disclosure.
Joint and individual obligations of tenants.
Tenant's obligation on vacating the premises.
What happens if they break the lease.
What if they damage the property.
What if they have to move out because of a problem with the property.
A mediation clause.
How tenant payments are applied to tenant charges.
Tenant responsibility to prevent mold.
Tenant responsibility to guard against bed bugs.
No oral agreements exist outside the lease.
Rent Cap and Just Cause Eviction Clause
A lease is a legally binding contract and if it is not comprehensive and well written to protect the property owner's substantial interests, it exposes the property owner to both potential liability and an inability to charge the tenant for certain items or terms of the lease if they are not included in the lease.
Discover Your Property's Earning Potential
Free Rental Analysis
Let's dive a little bit deeper into the exact process that Mesa Properties uses to manage each and every one of our rental homes.
Next Topic: The Pre-Move In Inspection and Move In
Get a Free Property Analysis!
Don't like forms? Give us a call instead: 909.360.2660
Property Location
Figuring Out How Much To Charge For Your Rental Property Can Be Challenging. We Can Help.
Fill out the property analysis form and let us do the research for you.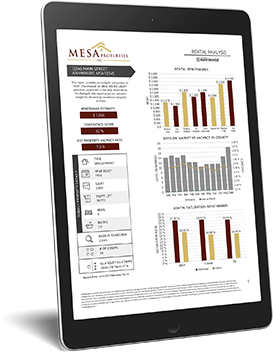 Get Optimized Rental Value for Your Property.
Gain Crucial Insight Into Current Riverside Market Conditions.
Determine Your Cash Flow from Monthly Rental Value.
GET YOUR FREE RENTAL ANALYSIS NOW!
Don't like forms? Just give us a call instead: 909.360.2660
How It Works

Tell us where your property is

Start by simply entering your property address and complete step two of the analysis process to receive your automated report.

Receive your free report

In a matter of minutes, you'll receive a personalized property report via email analyzing your home with a suggested rent range and market data.

Expert Evaluation

The actual rental value may increase or decrease based on property location, condition and amenities. To receive the most accurate rental analysis contact us at 909-360-2660 after you receive your rental report and speak with one of our market experts.

Get Quality Tenants Fast

Explore our services for property management.