The Periodic Inspection
Make sure the tenant is abiding by the terms of the rental agreement and taking care of the property.
Periodic interior inspections are a vital part of managing your investment property. A landlord should view any tenant's resistance to this type of inspection with suspicion and be aware that the tenant may not be abiding by all the terms of the lease or possibly worse.
The most common violations that occur in single family properties are additional pets and people not listed on the lease.
These types of violations should not be tolerated and if discovered should be dealt with firmly and quickly. An initial face to face conversation is best, but if you think you will have future problems around the same issues, you should serve the tenant with a "Notice to Cure Covenant or Quit" notice. This is a formal document that informs the tenant in writing that they are in violation of the lease agreement and they need to come into compliance with the terms of the lease.
If additional people are living in the property and you are not opposed to having them continue their residency, they should go through the entire rental application process including a credit and background check. If they would not qualify to rent one of your properties when it is vacant, they should not be allowed to move in as an add on tenant midway through an existing lease.
Like any other inspection, the periodic inspection should be documented with pictures and notes. You should check all entry points for water including the water heater and all electrical outlets. Any signs of mold or water leaks should be fixed as soon as possible regardless of who caused the leaks. The same is true for any habitability issues found during the inspection. This is also a good time to make sure the tenant is changing the HVAC filter and maintaining any other items they agreed to maintain in the lease agreement.
Discover Your Property's Earning Potential
Free Rental Analysis
Let's dive a little bit deeper into the exact process that Mesa Properties uses to manage each and every one of our rental homes.
Next Topic: Raising The Rent
Get a Free Property Analysis!
Don't like forms? Give us a call instead: 909.360.2660
Property Location
Figuring Out How Much To Charge For Your Rental Property Can Be Challenging. We Can Help.
Fill out the property analysis form and let us do the research for you.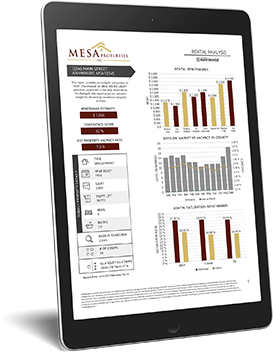 Get Optimized Rental Value for Your Property.
Gain Crucial Insight Into Current Riverside Market Conditions.
Determine Your Cash Flow from Monthly Rental Value.
GET YOUR FREE RENTAL ANALYSIS NOW!
Don't like forms? Just give us a call instead: 909.360.2660
How It Works

Tell us where your property is

Start by simply entering your property address and complete step two of the analysis process to receive your automated report.

Receive your free report

In a matter of minutes, you'll receive a personalized property report via email analyzing your home with a suggested rent range and market data.

Expert Evaluation

The actual rental value may increase or decrease based on property location, condition and amenities. To receive the most accurate rental analysis contact us at 909-360-2660 after you receive your rental report and speak with one of our market experts.

Get Quality Tenants Fast

Explore our services for property management.