Chino Hills Property Management
We provide comprehensive, hands-off property management in the Inland Empire and High Desert
Landlords Are Busy People
If you are a landlord, you know this better than anyone else. Most landlords aren't full time. They have jobs, families, hobbies and a plethora of other high priorities in their life that all rank above their landlord duties.
Even with everything going on in their busy lives, they are still willing to answer the phone on nights and weekends to make sure their tenants are taken care of.
70-80% of all residential rental properties in Southern California are managed by the owner.
What that means is that most landlords either don't trust or don't see the need for a property manager. They are managing their rental property just fine on their own. Or so they think...
So what do good property managers do and how can they help maximize the return on rental property investments? What resources and skills do property managers possess that investors or homeowner's can take advantage of?
This comprehensive guide designed for landlords managing residential rental property seeks to answer those questions and show how a good property manager will pay for themselves.
Discover Your Property's Earning Potential
Free Rental Analysis
Let's dive a little bit deeper into the exact process that Mesa Properties uses to manage each and every one of our rental homes.
Next Topic: What Do Property Managers Do?
Get a Free Property Analysis!
Don't like forms? Give us a call instead:
Property Location
Figuring Out How Much To Charge For Your Rental Property Can Be Challenging. We Can Help.
Fill out the property analysis form and let us do the research for you.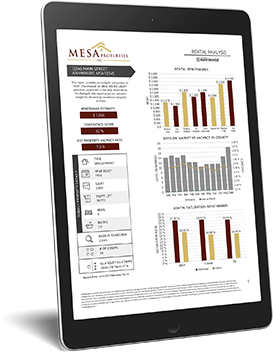 Get Optimized Rental Value for Your Property.
Gain Crucial Insight Into Current Chino Hills Market Conditions.
Determine Your Cash Flow from Monthly Rental Value.
GET YOUR FREE RENTAL ANALYSIS NOW!
Don't like forms? Just give us a call instead:
How It Works

Tell us where your property is

Start by simply entering your property address and complete step two of the analysis process to receive your automated report.

Receive your free report

In a matter of minutes, you'll receive a personalized property report via email analyzing your home with a suggested rent range and market data.

Expert Evaluation

The actual rental value may increase or decrease based on property location, condition and amenities. To receive the most accurate rental analysis contact us at 909-360-2660 after you receive your rental report and speak with one of our market experts.

Get Quality Tenants Fast

Explore our services for property management.