Getting Your Property Ready to Rent
Your rental property needs to be in great condition. Period.
Residential rental property can range from a single family residence on a nice quiet cul-de-sac to a multi-unit complex with on-site management and maintenance in a downtown urban setting.
Regardless of the type of property you own, your most important variable (after location) is the condition and quality of your rental property. Yes, curb appeal does matter, even if the property is occupied by a renter. It matters to both the prospective tenant and the local community in the immediate area.
A real estate investor who understands this will be willing to invest the money needed to maximize the potential rent and attract the best possible long term tenant. A good tenant is defined as one who takes care of the property and pays the rent in full, on time, every month. Very few tenants who fit this ideal description are willing to rent a property that is obviously out of date with lots of deferred maintenance.
This is not to say that you have to have the latest stainless steel, bluetooth enabled appliances and quartz countertops, but it does mean that the avocado green dishwasher that doesn't always rinse well and the 10 year old carpet should probably be replaced. Beyond maximizing the aesthetic condition of the property, safety and habitability should also be a primary concern for a property owner.
Should you paint every time a tenant moves out?
Although the paint does not need to be new, many multi-unit owners choose to repaint their rental units every time a tenant moves out. Sometimes you can get by with using touch up paint on the entire wall that needs touch up. Trying to use touch up paint mid-wall in specific spots often ends in failure. The new paint, even if it was from the same container that was originally used to paint the wall, will have a slightly different sheen and will look worse than the original blemish you were trying to cover up.
Regardless of the condition of the paint, there should be no existing nail holes in the walls when a tenant moves into a property. Trying to unwind which nail holes were pre-existing and which ones were done by the current tenant is a fool's errand and you end up being unable to charge for any of the damage to the walls caused by the nail holes
At Mesa Properties, we have developed a standard rent ready inspection report that all of our property managers use to inspect the above list of items and much more. If you are interested in getting a copy, contact one of our property managers today or click here to request one.
Discover Your Property's Earning Potential
Free Rental Analysis
Let's dive a little bit deeper into the exact process that Mesa Properties uses to manage each and every one of our rental homes.
Next Topic: Pricing Your Rental Property
Get a Free Property Analysis!
Don't like forms? Give us a call instead: 909.360.2660
Property Location
Figuring Out How Much To Charge For Your Rental Property Can Be Challenging. We Can Help.
Fill out the property analysis form and let us do the research for you.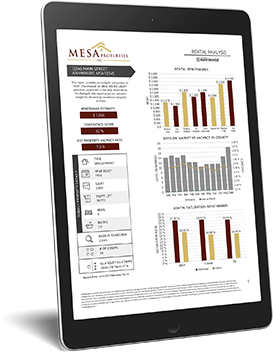 Get Optimized Rental Value for Your Property.
Gain Crucial Insight Into Current Riverside Market Conditions.
Determine Your Cash Flow from Monthly Rental Value.
GET YOUR FREE RENTAL ANALYSIS NOW!
Don't like forms? Just give us a call instead: 909.360.2660
How It Works

Tell us where your property is

Start by simply entering your property address and complete step two of the analysis process to receive your automated report.

Receive your free report

In a matter of minutes, you'll receive a personalized property report via email analyzing your home with a suggested rent range and market data.

Expert Evaluation

The actual rental value may increase or decrease based on property location, condition and amenities. To receive the most accurate rental analysis contact us at 909-360-2660 after you receive your rental report and speak with one of our market experts.

Get Quality Tenants Fast

Explore our services for property management.