In 2018, personal home security systems are cheap, they're everywhere and they are incredibly easy to install. It has become an absolute no brainer to have one in your personal home and may become more and more necessary to have one in your rental home as well.
Several Inland Empire cities are on the top 10 list for highest property crime rates in Southern California. With the passing of Proposition 47, property crimes have risen and the likelihood of becoming the victim of a home burglary has increased.
Homeowners and renters alike can ensure they are protected by taking simple measures to add security to their homes. The big companies with the confusing contracts and high fees are no longer the only option. There are several DIY systems that you can install in a matter of minutes and have up and running with free self monitoring or low monthly fees.
The Benefits
For your personal home, these are pretty obvious. A home security system, no matter how robust, is an easy deterrent to crime. In the event a break-in does occur, an audible alarm will often be enough to cause the criminal to flee without even burglarizing the home. With professional monitoring, local police can be dispatched in a matter of minutes.
To help further deter break-ins, installing a video doorbell or other exterior cameras will cause most would-be burglars to just move on to the next house that doesn't have cameras. Footage from these cameras can also be given to police after a break-in occurs.
Don't just stop at securing your personal home. By adding security systems, especially those without long term contracts to your rental home, you can make it that much more appealing to potential renters. You don't need to pay the monthly fees associated with a security system, but having the hardware installed and available for the tenant to activate can be just another feature that sets your rental apart from the rest.
Tenants have indicated that they find smart homes appealing and that they would even be willing to pay more per month to rent a home with the most recent tech. Putting a security system in your rental can not only make it more attractive to potential tenants, it can also put more rent money in your pocket.
If you are a tenant renting a home that did not come equipped with a security system, there are still options for you! Many security systems are completely wireless and do not require professional installation that would involve making alterations to the property that you are not authorized to make. Simply install the wireless sensors and devices and take it with you when you move out. It's that simple!
Selecting a System
Even if you know that having a security system for your Inland Empire home or rental home is necessary, how do you know which one to choose? There are so many options and so many differences in price, it really depends on what you are looking for in a system.
Here is a breakdown of several systems as well as the features and benefits of each.
SimpliSafe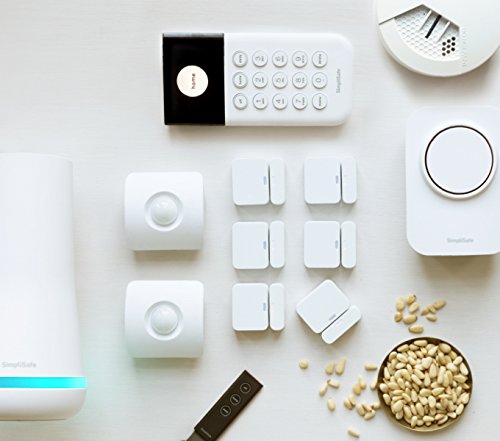 This is probably the most well known DIY security system. SimpliSafe has an excellent reputation of creating a great product as well as providing great monitoring and customer service.
The system is does not require professional installation or any intrusive drilling or other modifications to install. Simply use the adhesive tape to put your sensors where you want them and make your home or rental home safer instantly!
For the most basic hardware package which includes 1 base station, 1 keypad, 1 motion sensor and 1 entry sensor, the cost is $229. SimpliSafe also has cellular and battery backup so you're still covered in the event of a power or internet outage.
SimpliSafe can be used as a standalone alarm system with no monthly monitoring fee, or you can get professional 24/7 monitoring for $14.99/month. However, if you have cameras that you want to add as well and you want to be able to control the system from your phone, the cost is $24.99/month.
SimpliSafe also integrates with other third party products such as the Nest Thermostat, August Smart Lock and Amazon's Alexa.
Ring Alarm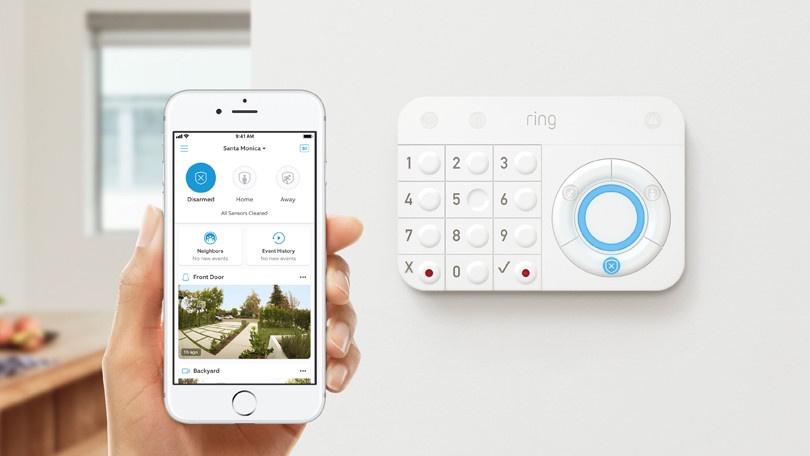 Ring is best known for its original video doorbell and has just recently entered DIY security market with the Ring Alarm. This is the simplest of your options and is perhaps the easiest to take with you when you move.
Just like SimpliSafe, Ring Alarm is completely wireless and does not require professional installation or drilling of any type. It has the option of being mounted on a wall but can also sit on a counter top or table.
The entry level package for the Ring Alarm includes the base station, 1 keypad, 1 motion sensor, 1 contact sensor and 1 range extender and costs $199. It has been rated as the easiest to set up, taking a mere minutes from unboxing to protecting your home. It also includes a battery and cellular backup.
Ring Alarm has the cheapest professional 24/7 monitoring costing just $10/month or $100 a year which includes dispatching police or fire in the event of an emergency and 60 day history on all of your Ring cameras at one address.
As of yet, Ring Alarm does not integrate with any third party systems, including their own cameras and doorbells. However your Ring cameras and the Alarm will be controlled through the same app and integration is promised for sometime in the future.
Abode


Abode is a new brand to the market and is the least recognizable of all DIY alarm companies, but that doesn't keep them from offering a killer product at a relatively low price.
Most security systems don't play well with others so this is where Abode really shines. It integrates with Alexa, Ecobee, Lifx, Nest, Google Assistant, Philips Hue, Linear, First Alert and several other Z-Wave and ZigBee technology products. Abode isn't the cheapest, but if you want a security system that integrates well with your existing smart home products, this is the one for you.
The entry level package which includes 1 base station, 1 motion sensor, 1 door contact and 1 remote key fob costs $279.
Professional 24/7 monitoring will cost $30/month and will add the cellular backup option. Self monitoring is free but does not include the cellular backup option.
Nest Secure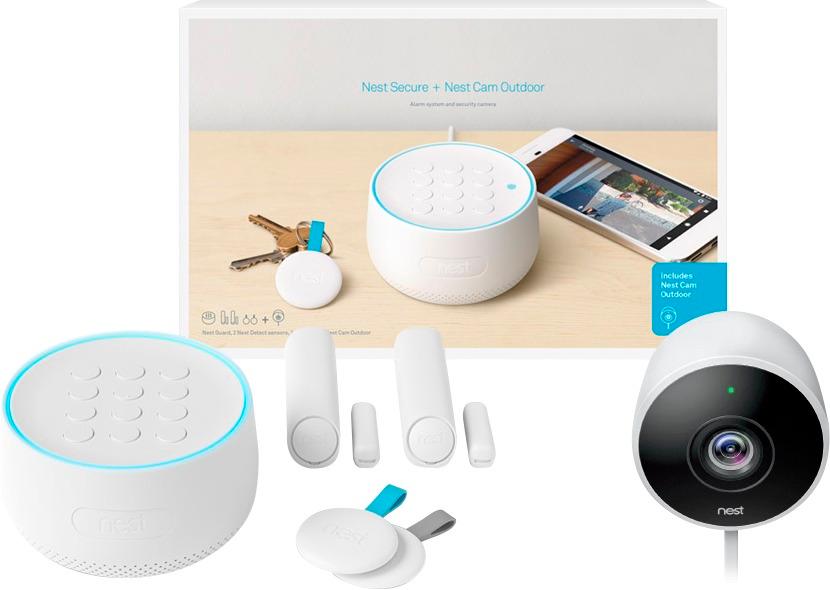 Nest has the benefit of being owned and backed by Google as well as having an outstanding reputation due to their wide success with smart thermostats and cameras. The Nest Secure System, like every other system discussed here, is easy to install yourself and does not require running wires throughout your home.
Nest has really focused on the fob aspect of security, boasting that passcodes aren't required, although you can use one if you prefer. Instead, just wave your fob over the keypad and the system arms or disarms. It also integrates seamlessly with Google Assistant and your other Nest products.
Nest is much more expensive than the other systems, at least to get started. The starter system which includes 2 contact sensors, the base station and 2 fobs is $399. The contact sensors double as motion detectors so separate sensors are not required beyond the contact sensors.
Nest professional 24/7 monitoring is actually provided by Brinks and costs $29/month unless you are willing to commit to a 3 year contract which will drop the price to just $19/month. Activating this plan will also give you a cellular backup option.
Summing It Up
Figuring out which DIY security system is right for you really depends on your preferences. All of the above mentioned products get the job done in their own way. All have the ability to monitor while you are home or away, sound an audible alarm and call emergency responders if necessary, and this is just a small sampling of what's available on the market.
The most well known, proven and reliable system is SimpliSafe.
The cheapest hardware and monthly plan is Ring.
The most intuitive is Nest.
The most third-party friendly is Abode.
It is worth noting that in order to operate a security system in most Inland Empire cities you must obtain a permit from the local police and fire station. These usually cost between $20 and $50 dollars and inform the authorities that you have an alarm system so that when they get a call from your monitoring company, they'll know it's legit.
If you decide to operate your system without a permit and have the police or fire department called out to your home, you are looking at potentially several hundred dollars in fines. Consult your local police station or city hall for more information.
As more and more DIY security systems enter the market, prices will continue to be extremely affordable for the service provided and features will continue improving. Based on the ease of installation, plethora of options and no long term contracts, there is no reason why you shouldn't add a simple DIY security system to your personal home and potentially even your rental home.