Closing thoughts on being a landlord
Owning rental property purchased at the right price, properly maintained and properly managed is one of the best investments you can own. If it is paid off or even if you have a mortgage that will sometimes be paid off, rental property can be a great source of extra income for years to come. It is also a great hedge against inflation as rents typically go up in an inflationary period yet your carrying costs on the property typically stay fairly fixed. Especially if you have a fixed mortgage that is getting paid off courtesy of your tenant with inflation adjusted rent payments!
Buying a property that generates rent payments that don't cover your monthly expenses is never a good idea. If you are hoping for inflation and assuming your monthly loss is only temporary, you aRE putting yourself in a precarious position. You might get lucky and your property's value and rent rate will increase to make you cash flow positive, or you might get to experience a repeat of the 2007 financial crisis where everything changed and the housing market crashed.
Like any investment, you need to have a margin of safety, especially when it comes to your cash flow. If financial risk keeps you up at night make sure you don't buy a property that puts you in the position of being over extended.
The key to being a successful landlord starts with the right property purchased at the right price, properly maintained and occupied by a tenant that has been thoroughly screened and wants to stay for a long as you are willing to rent to them. It's the imaginary place we call "landlord nirvana" and with a little work and the right market, you too can achieve it!
Discover Your Property's Earning Potential
Free Rental Analysis
If after all that you still have questions about our process or how we can help with your rental property, just fill out the form and we will get in contact with you soon.
Get a Free Property Analysis!
Don't like forms? Give us a call instead:
Property Location
Figuring Out How Much To Charge For Your Rental Property Can Be Challenging. We Can Help.
Fill out the property analysis form and let us do the research for you.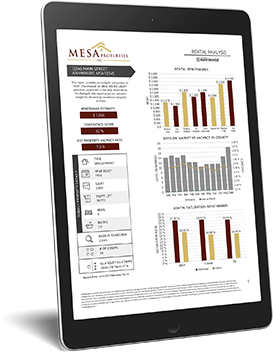 Get Optimized Rental Value for Your Property.
Gain Crucial Insight Into Current Riverside Market Conditions.
Determine Your Cash Flow from Monthly Rental Value.
GET YOUR FREE RENTAL ANALYSIS NOW!
Don't like forms? Just give us a call instead:
How It Works

Tell us where your property is

Start by simply entering your property address and complete step two of the analysis process to receive your automated report.

Receive your free report

In a matter of minutes, you'll receive a personalized property report via email analyzing your home with a suggested rent range and market data.

Expert Evaluation

The actual rental value may increase or decrease based on property location, condition and amenities. To receive the most accurate rental analysis contact us at 909-360-2660 after you receive your rental report and speak with one of our market experts.

Get Quality Tenants Fast

Explore our services for property management.