The First 30 Days of Tenancy And Beyond
Expect to hear from your tenants quite a bit.
Expect to have a fair amount of interaction with the tenant in the first 30-days of the tenancy. Expect a higher than normal amount of service requests, especially if the house sat vacant for an extended period of time before the tenant moved in.
Plumbing leaks, HVAC not working properly and even electrical issues sometimes don't come up until someone is living in and actively using all the systems in a property.
If a tenant moves in on a date other than the first of the month, make sure they understand when the next month's rent payment is due and what the amount is. Some owners will require tenants to pay a full month's rent to move in and then prorate the 2nd month. This can be confusing for the tenant so you should remind the tenant of this policy both at the lease signing, when you accept the full deposit and when they move in.
Once things quiet down a bit, it's important to maintain a great relationship with your tenants.
In fact, the goal of any landlord or property manager should be to have a good relationship with their tenants. Anytime a relationship turns adversarial, it makes getting things done a lot more difficult. This is not to say that you should become a softie when it comes to late rent payments.
If your lease states the rent is to be paid on the first then you should expect the rent to be paid on or before the first. If the rent is not paid then the tenant should expect to receive a 3-Day Notice to Pay Rent or Quit. A landlord or property manager should always be fair, but firm.
On the other side of the landlord tenant relationship, you should be responsive to all reasonable requests for repairs, especially if they are not caused by tenant abuse or neglect.
If the heater goes out during a cold spell and your HVAC guy says you need a new heating system you need to bite the bullet, open your wallet, and get the heater replaced. Not next month or next week like you might do if it was your own home but ASAP.
One of the biggest mistakes landlords make is taking forever to get essential items in a home repaired. This often leads to your good tenants getting frustrated and leaving when the lease expires because they assume you will take forever the next time something big happens. Losing what would have been a good, long term tenant because you wanted to save a few bucks is a very costly long term mistake!
It's not a tenant's concern that it's a costly repair. For some tenants, that is the exact reason they are not owners themselves. They don't want to be burdened with unplanned, costly repairs. You have agreed to stand in the gap and fix this type of stuff via your agreement to lease the property.
If you have a hard time confronting people for things they contractually committed to do like pay rent and take care of your property, you should consider hiring a competent property manager who will do the necessary hard work to make sure your best interests are protected.
Discover Your Property's Earning Potential
Free Rental Analysis
Let's dive a little bit deeper into the exact process that Mesa Properties uses to manage each and every one of our rental homes.
Next Topic: The Periodic Inspection
Get a Free Property Analysis!
Don't like forms? Give us a call instead:
Property Location
Figuring Out How Much To Charge For Your Rental Property Can Be Challenging. We Can Help.
Fill out the property analysis form and let us do the research for you.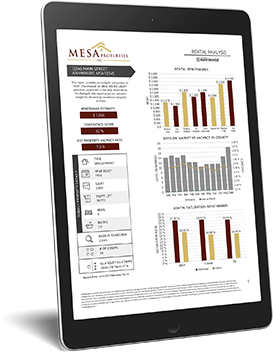 Get Optimized Rental Value for Your Property.
Gain Crucial Insight Into Current Riverside Market Conditions.
Determine Your Cash Flow from Monthly Rental Value.
GET YOUR FREE RENTAL ANALYSIS NOW!
Don't like forms? Just give us a call instead:
How It Works

Tell us where your property is

Start by simply entering your property address and complete step two of the analysis process to receive your automated report.

Receive your free report

In a matter of minutes, you'll receive a personalized property report via email analyzing your home with a suggested rent range and market data.

Expert Evaluation

The actual rental value may increase or decrease based on property location, condition and amenities. To receive the most accurate rental analysis contact us at 909-360-2660 after you receive your rental report and speak with one of our market experts.

Get Quality Tenants Fast

Explore our services for property management.