What Do Property Managers Do?
Property managers are just glorified rent collectors, right?
This is a very common misconception that most people have about property managers, and that's probably due to the poor reputation that property managers have in the real estate market. Lack of communication, slow response time and poor management practices are known qualities of most property management companies.
Good property managers, however, do a lot more than collect rent and take forever to return your phone calls.
Some services that all fall under property management are:
Rent Collection
Tenant Relations
Property Marketing
Applicant Screening
Accounting and Reporting
Ongoing Inspections
Maintenance Coordination
Tenant Turnover and Evictions
What Really Makes a Good Property Manager
Good property managers do so much more than just what's listed here. A good property manager is ultimately responsible for a specific outcome for the property owner.
Discover Your Property's Earning Potential
Free Rental Analysis
Property managers are licensed real estate professionals that perform all of these tasks while ensuring compliance with real estate laws. Many can give investment advice to owners looking to expand their portfolio and since they are licensed, they can act as the seller's agent in any real estate transaction.
Let's dive a little bit deeper into the exact process that Mesa Properties uses to manage each and every one of our rental homes.
Next Topic: Getting Your Property Ready to Rent
Get a Free Property Analysis!
Don't like forms? Give us a call instead:
Property Location
Figuring Out How Much To Charge For Your Rental Property Can Be Challenging. We Can Help.
Fill out the property analysis form and let us do the research for you.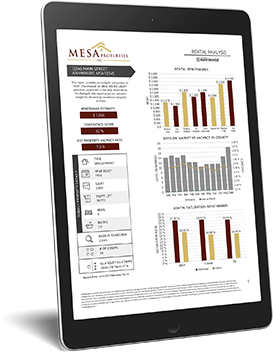 Get Optimized Rental Value for Your Property.
Gain Crucial Insight Into Current Riverside Market Conditions.
Determine Your Cash Flow from Monthly Rental Value.
GET YOUR FREE RENTAL ANALYSIS NOW!
Don't like forms? Just give us a call instead:
How It Works

Tell us where your property is

Start by simply entering your property address and complete step two of the analysis process to receive your automated report.

Receive your free report

In a matter of minutes, you'll receive a personalized property report via email analyzing your home with a suggested rent range and market data.

Expert Evaluation

The actual rental value may increase or decrease based on property location, condition and amenities. To receive the most accurate rental analysis contact us at 909-360-2660 after you receive your rental report and speak with one of our market experts.

Get Quality Tenants Fast

Explore our services for property management.