Saying Goodbye
Whether it's the end of the lease or considering an eviction, it's important to know when it's time to end the relationship.
Maybe your 1-year lease is in month 11 and you do not want to sign another lease with this tenant. Complaints of noise from the neighbors, lease violations discussed earlier or maybe a friend or family member that wants to rent the property are all acceptable reasons to ask a tenant to vacate at the end of a lease.
In fact, you don't need to have a reason and you don't need to give a reason for not renewing a lease. You and the tenant entered into an agreement for a 12-month lease, the time has passed and the agreement is done. 30-days prior to the lease expiration, you should properly serve the tenant a notice of termination of tenancy. This of course assumes that you are not subject to the just cause eviction law in California. If you are, you will need a just-cause reason to ask them to leave.
If the tenant has been in the property for more than 1-year you will serve a notice giving the tenant 60-days to vacate the property.
Your lease should clearly state and the tenant should be reminded again in writing that the security deposit cannot be used to pay the last month's rent. You should also serve your tenant with a right to pre-move out inspection usually 7-10 days before they vacate the property. This pre-move out inspection gives them an opportunity before they move out to remedy any damages that would be above normal wear and tear.
When you regain possession of the property, a final move out inspection with pictures should be done immediately. This move out inspection report should be closely compared to the original move-in inspection report and is the basis for all appropriate deductions from the tenant's security deposit.
If you are considering going through an eviction, you will need to start with a 3 Day Notice To Pay Rent Or Quit.
Discover Your Property's Earning Potential
Free Rental Analysis
Let's dive a little bit deeper into the exact process that Mesa Properties uses to manage each and every one of our rental homes.
Next Topic: Deducting From a Tenant's Deposit
Get a Free Property Analysis!
Don't like forms? Give us a call instead: 909.360.2660
Property Location
Figuring Out How Much To Charge For Your Rental Property Can Be Challenging. We Can Help.
Fill out the property analysis form and let us do the research for you.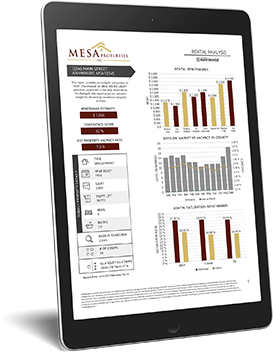 Get Optimized Rental Value for Your Property.
Gain Crucial Insight Into Current Riverside Market Conditions.
Determine Your Cash Flow from Monthly Rental Value.
GET YOUR FREE RENTAL ANALYSIS NOW!
Don't like forms? Just give us a call instead: 909.360.2660
How It Works

Tell us where your property is

Start by simply entering your property address and complete step two of the analysis process to receive your automated report.

Receive your free report

In a matter of minutes, you'll receive a personalized property report via email analyzing your home with a suggested rent range and market data.

Expert Evaluation

The actual rental value may increase or decrease based on property location, condition and amenities. To receive the most accurate rental analysis contact us at 909-360-2660 after you receive your rental report and speak with one of our market experts.

Get Quality Tenants Fast

Explore our services for property management.