Raising The Rent
Should you raise the rent after every lease agreement?
Assuming you signed a 1-year lease agreement and you would like the tenant to continue renting your property, decide if you want to have the tenant sign another 1- year lease or simply let the lease expire and go to a month-to-month term. Your original lease should specify if the lease will convert to a month-to-month tenancy. Legally, as long as the tenant continues paying you rent and you continue to accept the rent, you have a month-to-month tenancy.
If the tenant has been a good tenant, paying the rent on time, in full every month and taking care of the property, you should evaluate the local rental market and decide if you want to give the tenant a rent increase. Be sure you abide by any rent control laws in your area as you look at increasing the rent.
Make sure you factor into your decision the alternative to the tenant not accepting your rent increase and what a vacancy will cost you in the long run. To minimize the chances of your good tenant balking at your suggested rent increase, you should always keep your rent below the market rent in an increasing rental market. This way if the tenant decides to shop around and see if they can find a better deal, you want them to see that staying put is both the easiest and financially wisest thing they can do given the current market conditions.
Discover Your Property's Earning Potential
Free Rental Analysis
Let's dive a little bit deeper into the exact process that Mesa Properties uses to manage each and every one of our rental homes.
Next Topic: Saying Goodbye
Get a Free Property Analysis!
Don't like forms? Give us a call instead: 909.360.2660
Property Location
Figuring Out How Much To Charge For Your Rental Property Can Be Challenging. We Can Help.
Fill out the property analysis form and let us do the research for you.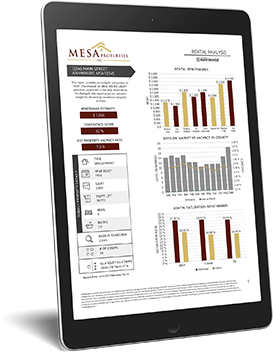 Get Optimized Rental Value for Your Property.
Gain Crucial Insight Into Current Riverside Market Conditions.
Determine Your Cash Flow from Monthly Rental Value.
GET YOUR FREE RENTAL ANALYSIS NOW!
Don't like forms? Just give us a call instead: 909.360.2660
How It Works

Tell us where your property is

Start by simply entering your property address and complete step two of the analysis process to receive your automated report.

Receive your free report

In a matter of minutes, you'll receive a personalized property report via email analyzing your home with a suggested rent range and market data.

Expert Evaluation

The actual rental value may increase or decrease based on property location, condition and amenities. To receive the most accurate rental analysis contact us at 909-360-2660 after you receive your rental report and speak with one of our market experts.

Get Quality Tenants Fast

Explore our services for property management.