You might not even know what Prop. 65 is, but if you live in California, I guarantee you've seen the signs. They're everywhere! Restaurants, bars, movie theaters, even Starbucks is required to post the warnings.
To me, the signs are nothing but a relentless reminder that I too will die someday, probably from cancer.
You are no doubt familiar with the wording, they say something along the lines of:
"WARNING Certain foods and beverages sold or served here can expose you to chemicals including acrylamide in many fried or baked foods, and mercury in fish, which are known to the State of California to cause cancer and birth defects or other reproductive harm. For more information go to www.P65Warnings.Ca.Gov/restaurant"
History of Prop. 65
In 1986, Prop. 65 was voted into existence by Californians. Prop. 65 was deceptively sold to the voters as the "Safe Drinking Water and Toxic Enforcement Act." Let me ask you, who in their right mind would vote against safe drinking water?
Few Californians knew that they were voting for warning signs to be posted in every location imaginable. Not too many voters would guess that their vote would force "The Happiest Place on Earth" to post Prop. 65 warnings.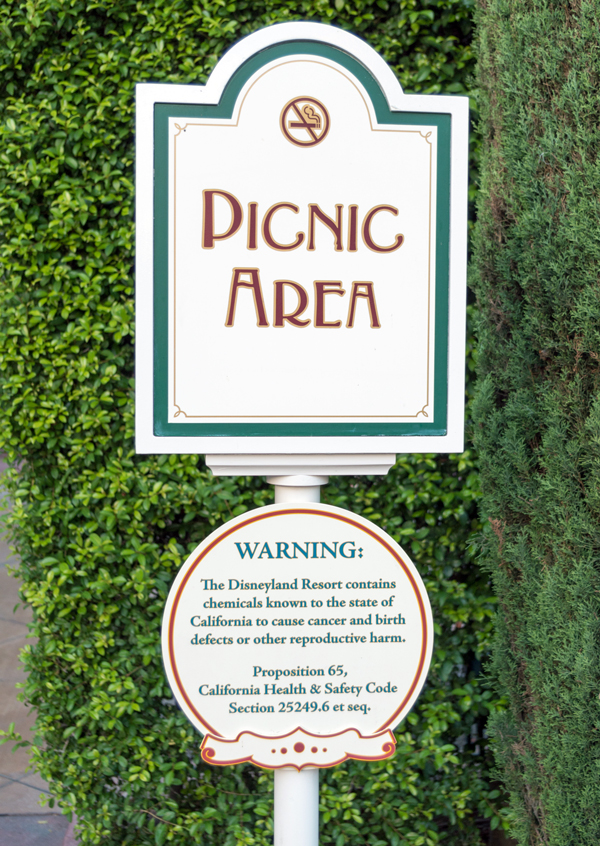 Since being voted on, the proposition has gained power and grown like an unwanted weed in your grandmother's garden. And now, it has somehow grown into the residential real estate market.
What Chemicals Does Prop. 65 Cover?
In 1987, The Office of Environmental Health Hazards Assessment, also known as OEHHA published a list of evil chemicals. At that time, there were only 85 chemicals that were vile enough to make that list.
Today, there are more than 900 chemicals that California considers to be evil.
Not only are there a ridiculous amount of chemicals on the list, but OEHHA requires a warning to be placed even if there is 1/1000 of the amount present that is deemed safe by the government.
For example; OEHHA says that if a human is exposed to 40 micrograms of formaldehyde per day, nothing will happen. They call this the "no significant risk level." However, a Prop. 65 warning is required if there is a risk of even 0.04 micrograms per day of formaldehyde exposure.
Here's the problem, According to the World Health Organization, the average outdoor urban air contains up to 0.05 micrograms of formaldehyde exposure per day. That is more than the acceptable level. That is why Prop. 65 signs are literally everywhere!
What is Formaldehyde?
I'm glad you asked. Formaldehyde is not just some random chemical that I picked off the list. It's actually applicable to property managers and those who deal with residential real estate.
Formaldehyde is definitely in your rental property. It can be found in:
Carpet
Paint
Furniture
Toothpaste
Baby wipes
Air fresheners
Cleaning supplies
Pillows
Paper
The list goes on…
And, if it's not formaldehyde, it's some other chemical somewhere out there that the State of California has decided is necessary to warn you about.
Consider Acrylamide, another evil chemical that California is deeply worried about. It is found in:
Bread
Potato Chips
Crackers
Cereal
Cookies
You read that right. Even grandma's cookies are not immune from Prop. 65!
Unfortunately, we all die a little more each and every day. That's the reality of the situation. However, the State of California has taken a different approach. They believe that the only real solution is to WARN YOU THAT YOU WILL DIE!
Prop 65. Continues to Grow
During his tenure, Governor Jerry Brown continued to push for heavier regulations. Consequently, the State of California continued to expand Prop 65. OEHHA decided that new wording was necessary for the warning signs.
They made this decision by conducting a study at UC. Davis. The study claimed that, "This product can expose you to chemicals" was 77% more effective than, "This product contains chemicals."
Because of that study, OEHHA is forcing all existing Prop. 65 signs to be changed to the new wording.
And, if businesses don't change their signs, they can be fined up to $2500 per violation per day retroactive up to 1 year.
Implications for Real Estate
OEHHA has decided that the warnings don't stop at restaurants and bars. They are still applicable to coffee shops, property management companies, and anything in between.
Fortunately, there is one relief for small business owners. These new warning sign regulations are only applicable to businesses that have 10 or more employees.
Unfortunately for us, Mesa Properties has more than 10 employees.
If your company has less than 10 employees, breathe a sigh of relief, and go do something else. These new regulations do not apply to you. If your company employs more than 10 people, then keep reading, this information is important.
The following is my own personal interpretation of the Prop. 65 laws. Keep in mind, I am not a lawyer, I did not go to law school. Therefore, the following is only my opinion, and not in any way or form guaranteed legal advice.
It is anticipated that this proposed legislation will become law this year, which will require all property management companies with more than 10 employees to include the following warning in their lease agreements, renewals, and whenever onboarding an existing tenant.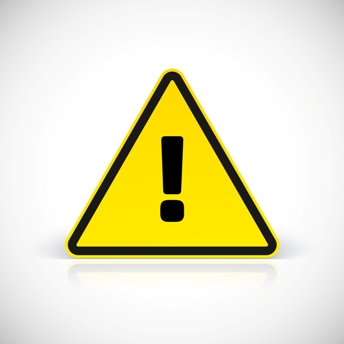 WARNING!
Materials such as paint, carpet, furniture, gas appliances, and composite woods on this property can expose you to chemicals including formaldehyde, which is known to the State of California to cause cancer. And, carbon monoxide, which is known to the State of California to cause birth defects or other reproductive harm. Talk to your landlord or the building owner about how and when you could be exposed to these chemicals in your building. For additional information, go to www.P65Warnings.ca.gov/apartments.
The State of California requires that the yellow triangle warning symbol seen above must be included with the warning. The State also requires that the word "warning" be bold and in all capital letters.
A specific chemical that causes cancer must be called out, as well as a specific chemical that causes birth defects. The warning must include the Prop. 65 website as well.
The above warning is called a "Safe Harbor" warning. If you post those exact words with the applicable chemicals to your property, you cannot be sued. If you want to get creative and post a warning that has more spunk, you are free to do so. However, you risk a lawsuit.
Parking Garages and Smoking Areas
As discussed above, property managers must add a Prop. 65 warning to the lease. In addition to this, the government has decided that there are two more locations that are worthy of a warning. Those places are parking garages and designated smoking areas
A Prop 65. warning must be posted in all covered parking garages. This is to warn tenants and visitors that a parking garage is full of the deadly chemical that is carbon monoxide. The following is a safe harbor warning for parking garages:
WARNING: Breathing the air in this parking garage can expose you to chemicals including carbon monoxide and gasoline or diesel engine exhaust, which are known to the State of California to cause cancer and birth defects or other reproductive harm. Do not stay in this area longer than necessary.For more information go to www.P65Warnings.ca.gov/parking.
A similarly worded safe harbor warning must be placed in designated smoking areas. If the entire property is designated no smoking, then no additional signage is required to specifically warn people about the dangers of inhaling second hand smoke and chemicals such as nicotine.
What if I Don't Comply?
Don't worry, if you don't feel like implementing these warnings, it will only cost you $2500 per violation per day. The fine can be imposed retroactively up to 1 year. Let's do the math on that violation real quick.
Let's say a property management company manages 500 homes. Let's say they go a full year without sending out these warnings. According to Proposition 65, that property management company can be fined:
$2500 x 500 x 365 = $456,250,000
That's a lot of money for excluding one lease addendum.
It should be noted that the OEHHA has never prosecuted a company to this extreme extent of hundreds of millions of dollars. However, landlords have lost fortunes for failing to post the proper warning signs.
Prosecutions Do Happen.
In 2003, The Consumer Defense Group of San Francisco sued a group of 24 apartment owners for not following the old Prop. 65 laws. The old laws, which are still in effect today, require signs to be posted in parking garages and smoking areas.
That group of owners is thought to have paid out more than a million dollars to The Consumer Defense Group.
Also, the law was written to encourage lawsuits! Whoever brings the suit against the offender is entitled to 25% of the settlement. The rest of the settlement goes to the State of California.
Let's get this straight. The state of California makes a regulation. Then, they indirectly pay citizens to litigate each other to make sure that the regulation is enforced. That seems perfectly normal to me.
Not to mention, if you are a business owner and a Prop. 65 suit is brought against you, it is your responsibility to prove that you are not exposing people to dangerous chemicals.
The point is, if you employ more than 10 people, be sure you are sending out appropriate warnings at the appropriate time. Also, be sure that you have the proper signs posted in parking garages and designated smoking areas. If you have any questions about this law, and whether or not you are in compliance with it, we suggest you contact a lawyer. In this case, the consequences of making a minor mistake are too grave. You are better of getting costly legal advice up front if that means you get to avoid a huge settlement down the road.
Come Talk To Us
If you are a frustrated California landlord trying to operate without a property manager, feel free to give us a call. We would love to talk to you about how we can make your life easier by dealing with all of the California regulations for you.
If you are interested in other real estate laws that are coming into effect in 2019, please check out this article.
We are not lawyers nor a law firm, and we do not provide legal advice. None of our employees or representatives are lawyers, and they also do not provide legal advice. The accuracy of this content is in no way warranted or guaranteed. Our website and services are not substitutes for actual lawyers. We recommend that you consult a lawyer for all legal advice.