Pricing Your Rental Property
Once your property is "rent ready," you need to determine how much to set the rent for. With online sites like Zillow providing their "Rent Zestimate," it's a fairly straightforward process to determine the market value of your rental property.
However, you need to be aware of the following exceptions when using a quick and easy online estimate:
The description on the online site does not match your actual property description.

Maybe the online site sees your property as a 3 bedroom 1.5 bath home, but it is actually a 4 bedroom 1.5 bath home. Maybe your rental has a pool and the internet site doesn't show that in their description.

Properties in your immediate area (within ¼ mile radius) are very different from your property but match your property in terms of square footage, bedrooms and bathrooms.

This is particularly common if your rental is part of a new infill development project and is surrounded by significantly older homes. Those homes could potentially rent for less and in turn, push down the rental value of your property.

There haven't been any recent rentals in your immediate area.

All of these internet sites use data mining algorithms to determine your property's rental value, so without recent comparable listings, the algorithm doesn't take into account recent increases or decreases in rents and could be using old data.
Because of the variability mentioned above, you should do your own market analysis and see what is currently available in your area for properties that most closely match your rental listing.
Do this on any of the many other websites including rentals.com, Trulia or realtor.com. You can also leave it to the professionals and search for local property management companies in your area that will usually provide a free market analysis!
Once you determine the market value of your rental property you still need to decide at what price to set the rent. Many owners don't spend enough time considering the price they are willing to accept on their investment property.
There are three schools of thought on pricing a rental property:
Price the property above the market price

This is the worst way to price a rental property. Sometimes an owner decides to ignore the market and make a decision based on their out of pocket costs. If the monthly mortgage, taxes, insurance and management costs are $2,850.00 then I need to charge $2,850.00 plus what I want to net on the property above my costs….Never mind the property's market value is $2,400.00 per month. As foolish as this sounds, some owners actually think this way. Their properties typically sit on the market for a very long time, costing the owner more money in the long run then if they simply priced their rental property at or below the market. This price methodology is sometimes referred to as "death by a thousand cuts."

The other risk in pricing the property above the market is that it actually attracts weaker, not stronger, tenants. Tenant's with high FICOs and good jobs are in their current position because they made good and prudent buying decisions in the past. Any owner who thinks these savvy potential applicants will rent their property above market will usually be disappointed. The weaker applicant, who oftentimes has already been turned down on other properties and is now desperate to find a place to live, is much more willing to pay over market rent for a home.

Remember the three basic needs of people are food, clothing and shelter. When any one of these three basic needs are threatened, people often get desperate. They are more prone to lie on an application and apply for properties that are overpriced because they don't have any other options. The owner who accepts this type of tenant can look forward to late rent, unpaid fees and eventually a potential eviction. And when they do finally get possession of the property, it will probably require expensive and extensive repairs that need to be done before the property can be rented again.

Price the property at the market price.

In a strong rental market, this is an acceptable strategy. You should expect lots of requests for showings and lots of interest from people wanting to submit an application. If you begin marketing the property and find the activity is not at the level you expected, go back and reevaluate your market analysis to make sure you are priced at the market. Be sure to check currently active listings that match or closely match your property's description. Sometimes, another landlord will list a property below market to get a quick lease and you will need to wait until that listing is filled if you are committed to leasing the property at the market price.

Price the property below the market price.

This is actually the savviest way to price the property. Pricing your property even $50-$75 below market ensures that everyone serious about finding a place to live will be looking at your listing. You will get even more applicants that you will not qualify, but you will also get the strongest applicants currently in the market for a rental property looking and hopefully submitting an application to rent your property.
Discover Your Property's Earning Potential
Free Rental Analysis
Let's dive a little bit deeper into the exact process that Mesa Properties uses to manage each and every one of our rental homes.
Next Topic: Marketing Your Rental Property
Get a Free Property Analysis!
Don't like forms? Give us a call instead: 909.360.2660
Property Location
Figuring Out How Much To Charge For Your Rental Property Can Be Challenging. We Can Help.
Fill out the property analysis form and let us do the research for you.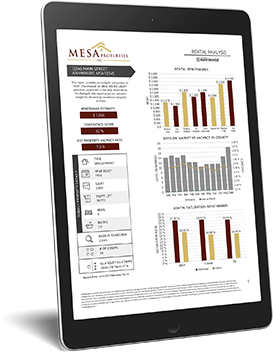 Get Optimized Rental Value for Your Property.
Gain Crucial Insight Into Current Riverside Market Conditions.
Determine Your Cash Flow from Monthly Rental Value.
GET YOUR FREE RENTAL ANALYSIS NOW!
Don't like forms? Just give us a call instead: 909.360.2660
How It Works

Tell us where your property is

Start by simply entering your property address and complete step two of the analysis process to receive your automated report.

Receive your free report

In a matter of minutes, you'll receive a personalized property report via email analyzing your home with a suggested rent range and market data.

Expert Evaluation

The actual rental value may increase or decrease based on property location, condition and amenities. To receive the most accurate rental analysis contact us at 909-360-2660 after you receive your rental report and speak with one of our market experts.

Get Quality Tenants Fast

Explore our services for property management.